Diocesan process of Simona concluded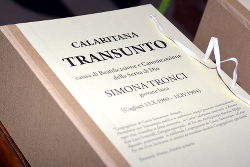 The diocesan process concluded its first step: on the 16th of July 2016, the diocese of Cagliari closed the cause for the beatification of Simona Tronci as Servant of God, which commenced in 2003.
A huge number of people attended this closing ceremony hosted by the Cagliari Cathedral, presided over by the Archbishop Arrigo Miglio as well as the members of the Court, the members of the Servant of God Simona Tronci's Postulation and the Comunità Primavera R.C.C. as the claimant of the cause...