Deeply in love with Jesus
To read the story of someone that personally I do not know but who today would more or less of my age, is a throwback, a plunge in the memory of eighteen, the more if you find yourself immersed into the story, for ways of thinking and understanding life.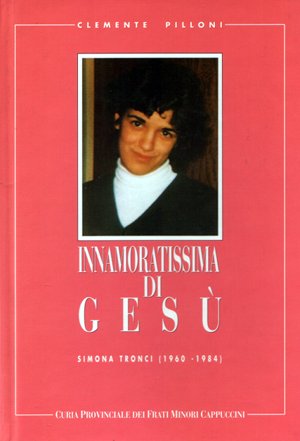 La copertina del libro
Simona Tronci's story, died at the age of 23, in April 1984, for a malignant tumour that made her immobile, is reflected in the title of the book dedicated to her, by Clemente Pilloni: Deeply in love with Jesus. These author's simple words are enough to talk about Simona: of her love for life, her availability for the others and, in particular, for her group of prayer; her humility, great and generous; for the value she gave to friendship, true and disinterested. And yet, the title is enough to understand the acceptance of pain and illness, which, in few years, has undermined her in the body but strengthened in the spirit.
This little book contains the life of any teenage girl who, in her few years of existence, has made her life a daily search of God's love. To love the Lord and Her Mother, thank them with prayers and songs, were the main concerns of Simona. "...Lord, help me to understand the pledge that I took with You and understand what You want from me...".
The book is full of thoughts and quotes that Simona loved to collect in a diary. Are good thoughts, infused with so much love for all that the Lord has made, beautiful and ugly.
"...Only if I put my trust in God, only if every day He tells me that if I am in this hospital is because He has allowed it, and He does not abandon me. If I keep in me the joy, the hope, and the serenity, is because I believe that anything will happen will be for His will and for His glory..."
At twenty-two years old, Simona noted in her diary these words. Are not easy words to say or think at that age! And above all belong to a girl who lived a normal life, made up of school, friendships, sports and a boyfriend.
Through prayer Simona has overcome every difficulty, won the fear of illness and pain, gave courage to her family and her friends to accept her suffering: "...Pour out your Spirit upon me, in order that I won't never deny this cross..."
After reading this book that the Author has wisely measured out with excerpts of lived life, one can only remain impressed by the humility of the protagonist, by her desire to be poor like Jesus to love the Lord with a pure love. Nothing better than her own words can make clearer this wish: "...I do not know how to love, Oh Lord, Thou hast taught us to pray, teach me to love of that kind of love that doesn't leave you a single moment, of that new love which should fulfill my life... Oh God, if I really loved You I'd be afraid to make you hurt..."
I think a great lesson for all of us, comes from Simona's life: to love and seek God in everyday life.
Marcella Lallai, Voce Serafica della Sardegna, November-December 1993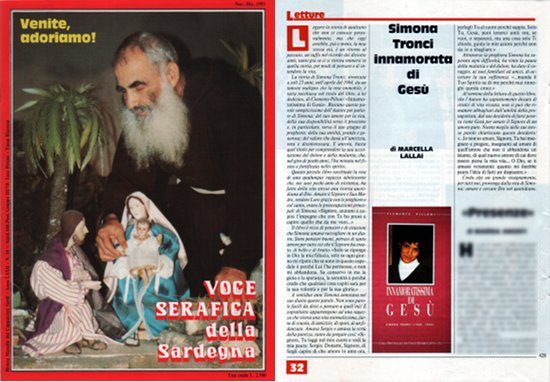 La copertina e la pagina 32 della rivista